Click here to view original web page at www.imeche.org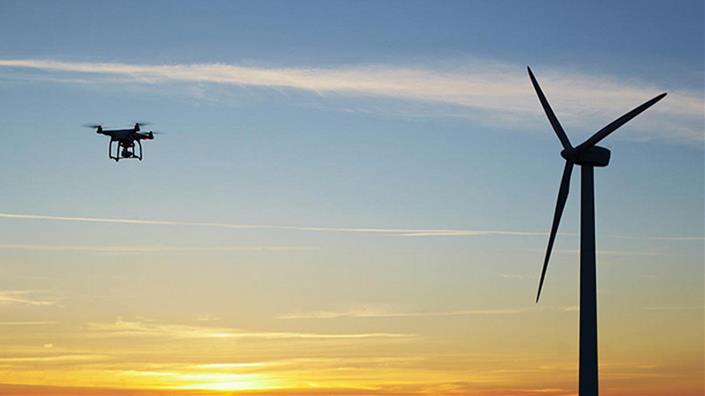 Danny McMahon from the University of Strathclyde's Advanced Forming Research Centre turns to drones for 3D modelling of wind turbines. He spoke with PE's Joseph Flaig.
My research is three-fold: ultrasonics, high-temperature optical measurement in forming and forging, and unmanned aerial vehicle (UAV) large-volume photogrammetry for asset inspection.
We're working on a really interesting project in UAV large-scale photogrammetry, which involves using drones to inspect wind-turbine blades. It cuts out the need for working at height or taking the blades off the turbine, which can make the task safer and less costly.
The project we have just completed was the laboratory-based initial feasibility study. We carried out trials of tracking the drone position and continually updating the control system to ensure the flight path kept to a prescribed route. This allows us to cover the surface of the wind-turbine blade efficiently and to keep the drone at a constant distance from it.
We then capture images throughout this flight path and transfer them to a photogrammetry software package. The images are stitched together based on feature extraction to create a 3D model of the wind turbine. This has allowed us to achieve accuracies of the blade under 0.5mm, which would be impossible to pick up with the human eye.
This model can then be compared to an 'as-built' geometry, or a previous scan, to identify quickly areas that have changed and potential defects. The end goal of this work is to get to a point where the defects can be well-understood. Another type of drone could then be deployed to carry out a remote repair – a crawler drone might go up the turbine and fix a problem on one of the blades, without the need to remove the blade or for humans to work at height.
Another area we are looking to address is applying this in an automated solution to offshore wind turbines where the environmental factors will have a much greater effect – it'll save having to send engineers out to sea to inspect and then fix the blades.

Drone with the wind
Large-scale photogrammetry is very useful for any large asset that is normally difficult to inspect – as well as wind turbines, we're looking at using it on oil rigs, buildings and ships. There are other technologies that will inspect these assets, but they normally require people to work at height and, in some instances, only a visual inspection is carried out. The equipment required and the time taken to carry out these techniques makes them very costly, whereas large-scale photogrammetry can be done with a consumer camera and some software – the costs are comparably very low and the time needed to capture data is reduced. Cameras can also be drone-mounted, which eliminates the risk of a person working at height.
As an alternative to a visual inspection, photogrammetry will capture much more detail than the human eye can detect. A lot of these assets are quite monotonous so humans are likely to suffer from fatigue and become less effective at the inspection. The data can be transferred anywhere in the world, which cuts out the need for engineers to work on site.
The method has generated significant interest across many sectors. There seems to be more focus nowadays on maintenance of assets and maximising life based on condition, as opposed to just swapping out parts after a fixed period.
Employing this technology will show how your asset has changed over time and could be linked to changes in performance, whether better or worse. It will allow informed decisions to be made and components to be replaced when required, instead of when prescribed.
Normally part failures result in an investigation, which involves looking back at inspection data that can often be limited. The new method will store a periodic 3D model of an asset that can be called up to identify a previously unknown critical defect which went on to cause a failure. This will create a better understanding of the asset performance and the types of defect to look for.